As much as we love spending our days whitewater rafting, there is definitely benefit to be found in relaxing and reading about the adventures of other people. Blogs are a valuable resource because they can not only possess a large volume of useful information, but also take us to rivers that we wouldn't normally get to try out. They can be useful for product reviews, techniques, local events and other articles that are interesting and helpful for the avid whitewater rafter.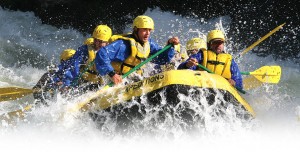 We've compiled a list of 10 of our favorite whitewater rafting blogs, and why it is that you should add them to your reading list.
In no particular order:
Frontiers North: Based in Canada, this blog covers wildlife, rafting, and adventure in one of the more northern parts of the country. It also provides a look into daily life, sustainable practices, and the history of the region,
Sawtooth Adventure: Wondering about the Salmon River and Middle Fork in Idaho? With breathtaking views and gorgeous lakes, this blog covers everything you need to know about some of the best whitewater rafting in the midwest.
Water by Nature: Looking for some great tips for planning your next whitewater adventure? Want to learn more about the technical side of rafting and other adventures? This blog is for you.
Rafting Life: Written by Dave Prothero, this blog outlines his adventures on different whitewater rivers in the world. A highly experienced paddler, this blog is a great way to see rafting from the perspective of the water.
O.A.R.S.: With major rafting destinations all over the US visited, this blog is a great option for someone planning a trip that is a bit further away and want a "first person" perspective. A clever writing style and sense of humor makes it an easy read too.
Row Adventures: Looking for something a bit more exotic? The Galapagos Islands perhaps? Then this is definitely the blog for you. Check out some of the most beautiful destinations in the world – both on and off the water.
Crabapple Whitewater: If you spend much time in and around the water in New England then you may already be familiar with some of these locations! You can almost hear the Boston accent coming through in some of it. 😉
Raft Echo: If you're looking for some helpful tips for getting started whitewater rafting, than this blog is the one for you. It also contains a number of useful articles about what to look for when choosing a whitewater rafting outfitter, making it a great read for the new rafter.
Wild Water: Rafting, nature, and history – oh my! Based around the Kicking Horse River in Canada, this blog combines useful rafting facts with interesting information about local historical and natural attractions to the region.
GCEX: Grand Canyon Whitewater Rafting. Need we say more? This blog is home to everything you ever could or would need to know about rafting in the Grand Canyon. High quality photos mean that with every post, you feel just a bit more like you're already there.