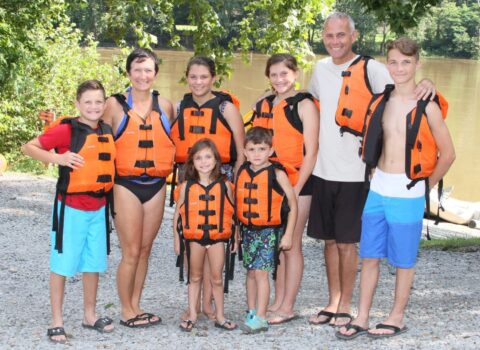 Frequently Asked Questions
Many of our guests have questions about whitewater rafting in America's newest National Park: New River Gorge and planning their adventure with us. We have compiled a list of frequently asked questions (FAQs), that pertain to rafting information, rafting guides, group accommodations, river related safety issues, and many other commonly asked questions about West Virginia vacations with River Expeditions.
Where can I go white water rafting in West Virginia?
West Virginia is famous for America's Best Whitewater. River Expeditions outfits trips on two of the most popular whitewater trips in the US – the New River and the Gauley River.
What is the best time to go white water rafting?
Every season brings its own special excitement to the rivers of West Virginia. Spring rains generally bring high water to the New and Gauley River basins, which bring the ultimate in high water thrills and chills. The water and air temperature is usually lower and wet suits are welcome apparel.
As wildflowers bloom and April showers bring big water, the spring is a very popular time to raft in the New River Gorge. Summer brings sunny days and warm nights to spend on overnights along the river. Water levels are nearer normal and the water temperature is 70°. Summertime river trips are great outings for the whole family.
Fall brings some of the most exhilarating whitewater in the world with the release of the Summersville Lake and the world class challenges of the Gauley River. As the beautiful fall foliage peaks with color raft trips on both the New and Gauley Rivers are not only exciting, but the mountains are breathtakingly beautiful.
How much does it cost to whitewater raft?
River Expeditions offers fun, affordable rafting adventures from Express Trips (2-3 hours) to Multi-Day Trips, each with varying price points. Midweek specials and deals provide incentives for guests who can raft on off-peak days. Kids raft free with a paying adult on all float trips (ages 6 – 11).
What state has the best white water rafting?
West Virginia offers the best whitewater in the United States. River Expeditions outfits rafting trips on the New River and Gauley River with trips available for beginner to advanced paddlers. West Virginia is centrally located making great whitewater even more accessible.
How long is a white water rafting trip?
The most popular, full-day trips average about 5 to 7 hours round trip from the River Expeditions campus. These times are approximate, including lunch and transportation, and depend on water level, weather conditions, other river trips and the pace you enjoy the most. Express Trips are available for those who have less time to devote to rafting. These trips average about 2-3 hours. Multi-Day trips are also available, including overnight riverside or basecamp accommodations.
How do I make a reservation at River Expeditions?
Simply give River Expeditions a call at 1-800-463-9873 or book online today. The best time to make a reservation for your West Virginia vacation is as soon as you can get your group together and pick a date. Select weekends and holidays fill-up very early in the season. The sooner you book a reservation, the better the chance is that your first choice of dates will be available. Reservations are required and always based on availability. 50% deposit is due to confirm your trip and the balance is due 30 days prior to your trip. If you are booking less than 30 days in advance, the full payment is due at the time you make the reservation.
Our Adventure Travel Team is familiar with the wonderful places that are to be found in West Virginia and they are skilled at helping plan your vacation. We can combine any River Expeditions Whitewater Trip with lodging and meals and other adventures for a complete, custom vacation package. We have secured the best rates with our local adventure partners and are happy to book on your behalf. Call now or book online today. See you on the river!
What should I wear when I go whitewater rafting?
In warmer months, a bathing suit, shorts, t-shirt, hat, sunglasses, sun screen, and old tennis shoes or river sandals are suggested – SHOES ARE REQUIRED. In spring and fall, a sweater, cap and socks of wool or polypropylene, over swimwear plus a wetsuit and/or nylon paddling gear with old tennis shoes or river sandals are suggested – SHOES ARE REQUIRED. Wetsuits and Paddling Jackets are available for daily rental – Wetsuits are $20 and Paddling Jackets are $10 or get both pieces for $25 (Best Deal).  Photo ID is required to rent gear.
What can I take on a whitewater rafting trip?
Don't take anything valuable or delicate with you on your rafting trip. You won't need money or a wallet because we will provide everything you need, including lunch for applicable trips. Really the only things you should take are yourself, your clothes any medications you might need (in a waterproof bag), sunscreen and a hat. We do not recommend wearing expensive sunglasses on the river. We sell sunglasses in the Outfitters Store and you can also purchase eye glasses retainers, although we cannot guarantee you won't lose them despite every precaution. We do not recommend bringing your phone or camera on the river. Souvenir photos and videos are available, upon request and pre-purchase. We suggest locking your valuables in your vehicle and leaving your keys with us before you depart for the river.
As far as footwear, we recommend river sandals, old tennis shoes or water shoes. No flip flops or sandals without straps are permitted… and certainly no bare feet allowed, for your safety – SHOES ARE REQUIRED!
What camping supplies will I need?
River Expeditions Camping Packages provide the campsite only. You will need to bring, tents, sleeping bags and toiletries for our shower house. *Rustic Cabins, Safari Tents and RV Sites  are available for nightly rental (Advanced reservations are required). Get the 4th consecutive night free with any of our on site lodging options.
Can I combine a rafting trip with another activity in one day?
Most full day rafting trips take between 5 and 7 hours which may leave room to add another adventure/activity in the evening, if you're up for it.  River Expeditions offers Zipline Tours (on site) or evening departures for Horseback Riding, Standup Paddleboarding, Bridge Walk Tours, etc.  We're happy to check availability and book another adventure on the same day as you raft OR you can extend your stay and participate in multiple adventures over the course of your stay.
How close is the New River Gorge National Park?
Canyon Rim Visitors Center is located just 4 miles north of River Expeditions. This is a great place to begin your exploration of the New River Gorge National Park. You'll find helpful rangers, easy-to-read hiking and biking trail maps and a beautiful overlook of the famed New River Gorge Bridge, plus ranger-lead hikes and lectures.
How will I get to the river?
River Expeditions provides shuttle bus transportation to and from our campus to the river. The cost of this transportation is included in your rafting trip. During the drive, your rafting guide will explain what to expect during your rafting trip and talk about the river conditions, plus provide important safety information.
Will my raft trip be videoed or photographed?
River Expeditions videographers paddle by kayak in advance of the trip and highlight excitement from the day featuring the major rapids, slow motion and music. Advance purchase is recommended to guarantee your trip will be filmed. Quality digital photo images of your trip are also available to view and purchase.  You can even order your photos online after the trip. Get the rafting DVD and Photo CD as a combo for the ultimate rafting souvenir. You can even get your rafting images on a thumb drive for an additional cost.
Can you whitewater raft in the rain?
Rafting is NOT weather dependent. We go rain or shine. You will get wet whether its raining or not!
Do you sell River Expeditions gift certificates?
You bet we do! River Expeditions Gift Certificates make a great gifts for the adventure lover in your life. Gift certificates can be used for Whitewater Rafting Vacations on the New and Gauley Rivers. You can purchase them by trip or in any denomination you choose. So make somebody happy twice – once when you give it and once when they enjoy the thrills and fun of a Whitewater Adventure in West Virginia. Call today 1-800-463-9873 for River Expeditions Gift Certificates and give the gift of adventure!
Are there whitewater rafting trip discounts?
River Expeditions Special Events offer some of the best bang for your buck! Our Weekday trips are always the best bargain on both the New and Gauley River. In addition, River Expeditions runs some mid-week specials that allow almost anyone to enjoy Whitewater Rafting. One complimentary trip will be issued for every 15 paid, so the Group Leader can go free OR split the discount among the group – this applies to our regular rates. So don't let the price keep you from the fun; call today to take advantage of our specials and discounts 1-800-463-9873. Sign up to receive our E-Newsletter and you'll be notified of any last minute deals, flash sales and offers exclusively for subscribers. Stay connected on our social channels for updates and Cyber Specials!
Who can go on a whitewater rafting trip?
Almost anyone from 6 to 86 can find whitewater fun on both the New and Gauley Rivers. No experience is necessary on the milder sections of both rivers. Of course there are plenty of thrills for the "adrenaline junkies" in the wilder sections of the New and the World Famous Gauley River. For the most fun, start mild while building your skill level, and then try the bigger, wilder rapids. A multi-day trip lets you build your confidence and river ability each day.
Although being able to swim is helpful, many non-swimmers raft with River Expeditions each year since each guest is given all necessary safety equipment: a Coast Guard approved Type V Life Jacket, Paddle and Helmet. Folks with physical disabilities are often able raft with River Expeditions. We love to share the beauty and excitement of River Expeditions and Southern West Virginia with as many people as possible. We do our best to accommodate everyone. Just call our Adventure Travel Team to help make arrangements for any special needs you may have.
What do the Whitewater rapid classifications mean?
Rapids and rivers are subjectively rated Class I through Class VI. These ratings are dependent on volume of water, geography of the rapid and any downstream dangers and ease of recovery. In general the following classifications are appropriate:
CLASS I-II: Mild/Easy/Beginner – Family Class (no experience needed)
CLASS III-IV: Moderate/Intermediate – Adventure Class (no experience needed)
CLASS V-V+: Advanced – World Class (previous experience recommended)
Will our raft be guided?
All River Expeditions trips are guided. Each of our rafts has a fully trained, professional guide. All guides are certified in First Aid and CPR. Many have advanced medical skills (EMT, Wilderness First Responder, etc.).
You will have the opportunity to paddle on your own, only on trips that allow the use of inflatable kayaks (or duckies). On these trips there is a guide nearby who will lead your trip.
Can I request a specific guide?
Yes. We will do our best to accommodate your requests, but remember your favorite River Expeditions guide may have already been requested or have other commitments that prevent us from making a guarantee. Book early to increase the chance that your favorite guide will be available for your trip. Keep in mind that all our guides are excellent and each offers a unique trip experience, so give them all a try!
Is whitewater rafting safe?
River Expeditions has an excellent safety record, but whitewater rafting does have inherent risks, including but not limited to, serious physical injury and/or death. Our guides meet, or exceed, all West Virginia Department of Natural Resources Safety Standards, as well as First Aid and CPR certifications.
Life jackets must be worn at all times on the river and helmets are required in advanced whitewater. You can help enhance your safety by being in good shape. Alcohol and controlled substances are not permitted on the river. Guests with medical conditions should alert the Trip Leader. Guests suffering from asthma should be aware that cold water can be a severe hindrance to their breathing.
Lunch spots occasionally draw bees and anyone who is allergic should bring their medication and inform the Trip Leader. It is the responsibility of every rafter to adhere to safety procedures.
Can I go whitewater rafting if I have a medical condition?
When making your reservation, please be sure to inform the River Expeditions Adventure Travel Team of any medical condition, physical disability or allergy that may require special attention or accommodations. Please obtain your physician's written approval to raft if you have special medical conditions, such as diabetes, asthma, epilepsy, heart condition, bee sting allergy, etc. While we can accommodate most conditions, it is always best to know prior to rafting and be prepared for any contingency. If you have questions about particular conditions please call a River Expeditions Adventure Travel Team Member at 1-800-463-9873. See you on the river!
Can I go whitewater rafting if I am pregnant?
If you are pregnant, you will not be permitted to go rafting. We do not think it is worth the chance of risking it, no matter how early you are in your pregnancy. At River Expeditions we think moms are special – we know you agree and appreciate your cooperation! You won't be pregnant forever and the river will still be here.
Can I go whitewater rafting if I can't swim?
While it is helpful to be able to swim, it is not required. Many of River Expeditions guests can't swim, but everyone on a whitewater trip is required to wear a Type V Personal Floatation Device (PFD or Life jacket). These US Coast Guard approved PFDs are designed to be able to float a person upright. The only folks who should not come are those people with an inherent fear of water. A whitewater raft trip is no place to face your fear of water – this is a bad idea and never recommended. Everyone else will love it!
Are you licensed by the state of West Virginia?
Can I go whitewater rafting if I have a disability?
Those with physical or mental challenges often raft with River Expeditions. We love to share the beauty and excitement of our rivers with everyone, regardless of their disabilities. Our staff is patient, compassionate and open to sharing new experiences with all our guests. While we can accommodate most conditions, it is always best to know this information in advance. Please give us details when making your reservations and we will do our best to accommodate your disability.
We welcome all your questions and will take time to answer them thoroughly and to the best of our knowledge. Speak to a live person, never a prompt. Feel free to call us at 1.800.463.9873 or email your question to info@raftinginfo.com.
What is your cancellation policy?
You can find our cancellation policy and information regarding trip cancellation insurance HERE.