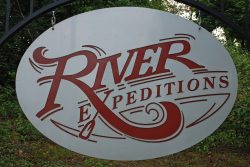 In 2008, Rick and Heather Johnson, who already owned one rafting company, took a chance and purchased three rafting outfitters with the goal to consolidate Rivers, Appalachian Wildwaters, and USA Raft. They purchased the current property and moved their operation to the new home of River Expeditions.
As the first rafting outfitter to consolidate companies, River Expeditions was able to successfully blend the best elements from each of these companies seamlessly. While other outfitters moved into the area, River Expeditions remains the only second generation, family-owned company. And we treat our guests like family.
Rick and Heather Johnson maintain a hands-on approach while offering all the amenities of a large outfitter, like cabins, zipline, pool, saloon, lodge, and restaurant etc.
River Expeditions is, and will remain, guest-centric. We realize our guests are the only reason we exist. Adapting to changes within our industry clientele and markets keeps us focused on what matters most. We love getting feedback from guests.
Appalachian Wildwaters
Appalachian Wildwaters was founded by Imre Szilagyi in 1972 as a way to introduce the public to a sport that was gaining popularity as a mainstream pastime. At the time of its creation, rafting was all about muscle – and guests were simply passengers along the route that their guides created for them.
Szilagyi, however, believed that there was a better way to experience the water. He had his guides give guests proper oars and had them implement some kayaking techniques. This allowed guests to go from passive passengers to active participants on their whitewater adventures. His method slowly took hold throughout the region until it became the norm – with some companies even having to cut guide's oars in half in order to ensure that guests would become an active part of the process.
Appalachian Wildwaters also made other huge strides in the business end of the rafting industry. In the 1970's they implemented not only the first computer but also the first toll-free number in the industry. These two changes not only increased the organizational level of the outfitters, but also allowed for a more client-centered experience with the new ease in functionality and booking. In the 1980's they took it a step further with guest feedback cards. These cards allowed Szilagyi to realize that guests really did not enjoy bailing water out of rafts – thus the conversion to self-bailing rafts begun; all because of feedback cards!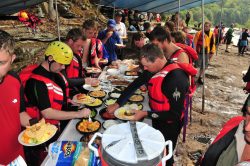 In the 1990's he also started to move more in the direction of a "resort style" experience after seeing the success of simply adding several new amenities such as viewing decks and hot tubs – like those at the 1996 Olympic Whitewater Course. In 1988 land overlooking Sweet's Falls became available on the Gauley and Appalchian Wildwaters managed to acquire what is certainly the most spectacular lunch spot in the industry. You know you have picked the right rafting company when you're eating lunch on the sunny side of the river while watching the rafting spectacle from the rock overlooking Sweet's Falls!
Rivers Resort
Rivers Resort was founded in 1982, by Eddie Lilly – the first and only outfitter, at the time, to be a native West Virginian. Although rafting in West Virginia began in 1968, river running didn't truly gain prominence as a recreational sport until the 80's. Rivers began to grow and invest, capitalizing on their premier basecamp location and proximity to the New River Gorge, which was designated as a National River by the Park Service in 1978.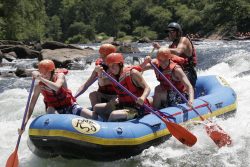 Along the way, Rivers maintained a simple philosophy that anchored their company in the marketplace, long before mission statements were in vogue. Their belief that "if you show folks a good time, they will come back" was lived out from the owner, to management, to staff; and their guests were a testament to this approach to doing business. At one time, Rivers rafted as many as 35,000 guests per year, eclipsing other companies in the industry.
Rivers was also an innovator in the areas of marketing and sales, as well as products and services, setting industry standards and best practices for decades. Rivers was first to attend travel and sport shows throughout the Eastern US, meeting people face to face and inviting them to come rafting in West Virginia, promising a good time. This direct sales style resonated with the hard-working clientele who responded well to the staff as deep bonds were formed. Throughout the years, Rivers' guests grew up, moved around, started families and eventually became grandparents; always nurturing their spirit of adventure and sharing it with their own family and friends.
As the first all-inclusive outfitter to attain 'resort' status, Rivers began to package rafting with lodging, meals and other attractions, offering easy and affordable vacation getaway packages. They were the first to offer on-site lodging with a 160-acre campground and rustic cabins. Guests enjoyed the Red Dog River Saloon which was legendary for après rafting fun and entertainment.
Extreme Expeditions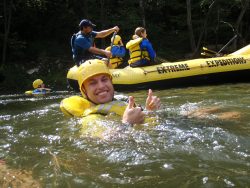 In 1996 Rick and Heather Johnson bought New & Gauley River Expeditions and formed Extreme Expeditions from the ground up. They steadily grew their business over the next 11 years to a "boutique" outfitter, offering a distinctive hands-on approach to guest relations and management.
Extreme Expeditions offered more intimate and personalized river experienced for their guests with smaller trip formats, while providing the same trips and products as the larger outfitters. Their easy rapport with guests made them feel like guests and friends, not just a consumer.
Well maintained equipment and clean facilities were key to guest satisfaction, in addition to exceptional service which was the hallmark of Extreme Expeditions. This basic principle was easy enough to follow since treating guests the way we wanted to be treated on vacation was our staff's mantra.
USA Raft
USA Raft was founded in 1986 by Imre & Janet Siligiza with the vision of introducing rafting to everyone at a affordable price. USA Rafting pioneered many new types of inflatable craft in the industry all the while doing it in their signature red color Usa staff were instilled with the simple principle of giving the customer more than they expect and you will prosper. USA Raft eventually grew to the largest rafting company in the US rafting more people than any other outfitter in America on 9 rivers in 3 states.