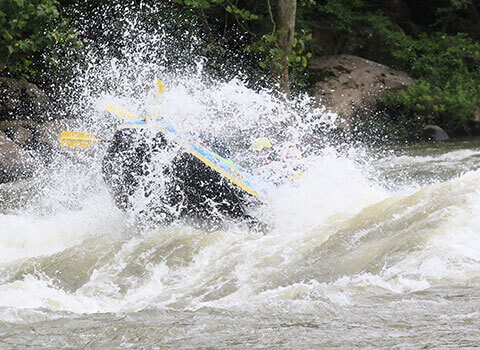 Articles
Categories:
How to Convince the Reluctant Rafter
Everyone has a little whitewater rafter deep down inside of them – sometimes it can just be a little bit difficult to draw out. Now we all know that if we force someone to do something, odds are that they will end up hating it – which would end up completely defeating the point of… Read more »
Rivers in Australia
As the cooler months descend upon us, the warmer months are rolling around on the other side of the world in Australia. What does that mean? If you're already missing the whitewater, now is the time to plan your trip down under. Or at least look at pictures of the amazing whitewater and gorgeous scenery… Read more »
The Best Breakfast in the New River Gorge
Fall Gauley season is in full swing and more and more rafting enthusiasts are flocking to the river for some of the best whitewater around. One of the best things about whitewater rafting on the New or Gauley rivers is that it is a great way to spend some time outside, get your heart pumping,… Read more »
Rafting with Kids
There's something about rafting and kids that goes well together. Maybe it's the break from time attached to a screen or studying for a test. Maybe it's the fun that you, the "adult" get to enjoy while chaperoning your kids on the water. Whatever the reason, whitewater rafting is a great activity for kids and… Read more »
#whitewaterrafting
So, whether you're new to it, or are looking for some accounts to liven up your feed with, check out our list of our favorite whitewater rafting Instagram accounts.
Shopping in the New River Gorge
If you're visiting the New River Gorge for the amazing whitewater rafting, it's definitely worth spending some time also exploring local shopping and attractions. After a little time there, you'll realized that the New River Gorge is home to a number of activities – both on and off the water. Some of our personal favorites include… Read more »
Paintball – A Dry Extension of Rafting?
Oftentimes, if someone enjoys one specific outdoor sport (say whitewater rafting, for example), that happens to be packed full of adrenaline, there is a strong chance that they will enjoy other "similar" activities, so long as they result in that feeling of adventure and excitement that so many chase with rafting. Subsequently, it isn't difficult… Read more »
Campfire Safety Essentials
As much as we love campfires (and we do), it is important to remember fire safety when enjoying them. Fire prevention doesn't have to be difficult, and has a strong base in common sense, so it's easy to take the necessary precautions. Keep reading for our list of some of our top campfire safety resources and what type… Read more »
Summer Campfire Fun
Oh hello summer, nice of you to (finally) join us. If you're like much of the country, you're probably finally starting to see a very late summer, and you're ready to get out and make up for lost time. Aside from whitewater rafting, one of the most obvious and fun ways to do this is… Read more »