Did you most recent rafting adventure build up a big appetite? That's okay! Because the team at River Expeditions and the local community of Oak Hill, West Virginia, can ensure that the end of your rafting day is met with a full belly. This summer, we are going to explore several options for how to get your grub on in West Virginia!
Onsite options are available for all guests both throughout the day and also into the evenings. An array of local dining options also mean that (almost) every taste can be easily satisfied. Prefer to cook your own food? That's an option too, with grills throughout the adventure resort.
In Part I of this 3 part series, we are going to look at the different options provided to you by the team at RE. Stay tuned for Parts II and III where we will look at local options in the area, and also outdoor cooking essentials for every adventure vacation.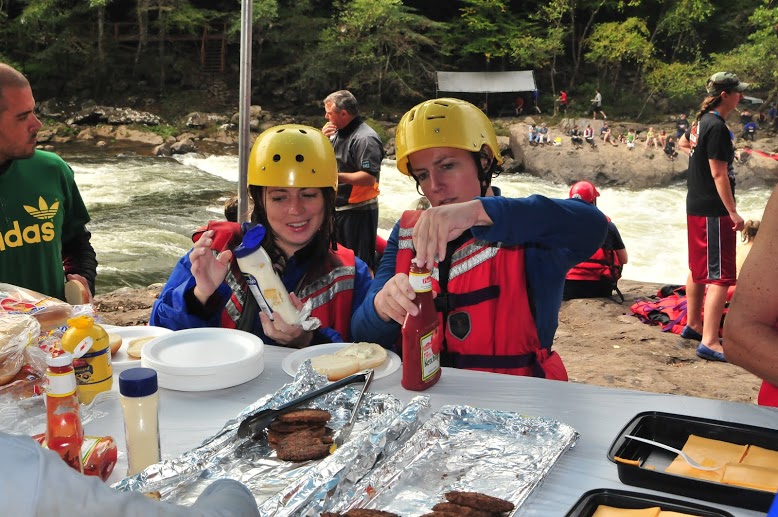 Whitewater rafting is a fun-filled day on the water. However, such a trip would not be nearly as fun if everyone involved was hungry! So, we suggest that you take full advantage of onsite dining options to make sure that you don't "run out of gas" during your rafting run.
Many of our overnight rafting packages include a daily lite breakfast and a riverside BBQ for lunch and dinner. Lite breakfast by the water is a great way to get a full appreciation for nature and West Virginia, while also fueling up for the day ahead with lots of healthy fruits, whole grains, and proteins. Once the trip has begun, the thoughts of breakfast and food will be gone until around noon – when all of a sudden we all start to get a little bit hungry. To remedy this, our multi-skilled raft guides (who knew a rafting guide could also be a chef??) will set up a temporary camp and "kitchen" to feed all the hungry rafters! Lunchtime selections include traditional BBQ/grilled fare (burgers and other yummies) plus vegetarian options for guests who prefer or require meatless meals. Getting hungry yet?
Dinnertime depends on your location. If you are on an overnight trip, your exceptionally talented rafting guide will further impress you with his outdoor cooking skills by grilling up a delicious outdoor dinner for everyone too! Dinner features similar options to lunch on the water – but who doesn't like watching their dinner be prepared with a beautiful sunset over the gorge as a backdrop?
If you kept your rafting adventure to a single day and you find yourself at the adventure resort for the night, plenty of options are available there too! Some cabins come with grills, and of course, grills are located throughout our campsites (check back for Part III for more information on grilling recipes and safety), if you would prefer to cook your own dinner. If you would like to stay onsite, but also want to have dinner prepared for you, check out the Red Dog River Saloon and Grill (RDRSG). Here, you can hang out with new and old friends, drink a few beers, watch your rafting adventure, and oh yeah, eat some dinner! The RDRSG features a simple, but delicious menu of grilled favorites and generous portions – not to mention a massive fridge of beer and (sometimes) live music to keep the fun going. Once the grill is switched off, be sure to stick around for fun and games into the evening.